The Viking Boot in Cedar (Last Chance, Final Sale)
Meet the Viking Boot in Cedar, a stylish new addition to our Viking family. This heavy duty boot features a Goodyear Vibram combat sole and embossed Italian full-grain leather.  After receiving countless requests for a cold-weather friendly boot, this is a durable and stylish. One of our Founder's all-time favorite.
Sizing Guide
All TAFT boots and shoes are designed to match standard US dress shoe sizes. In general this particular style runs small, we suggest using our "Find my size" feature.
size d
All our shoes are standard D width.
size inbetween
If you are unsure of your size, check out our size guide below or chat / email us.
size sneakers
Buying Sneakers?Size up if you typically wear a half size.
Bold Styles, Unique Designs
We design with boldness in mind to ensure that all our products are as unique and stylish as you. You will not find shoes like this anywhere else.
Full-Grain Leathers
We only use vegetable-tanned, chromium-free, full-grain leathers. These high-quality leathers make our shoes durable and comfortable. We partner with some of the best mills and tanneries in the world to produce bold and unique styles.
Handmade by Artisans
Every product is hand made by a generational shoemaker in Spain or Portugal. Every piece of leather is painted and stained by hand to give a beautiful finish that is unique to each shoe. The entire process of making a TAFT item is guided by human touch, allowing us to use only the best sections of the leather.
Customer Reviews
Write a Review
Ask a Question
Filter Reviews:
boots
TAFT
compliments
size
pair
shoes
Cedar
leather
Customer service
Viking
11/29/2020
Gerald B.
United States
Love these boots...
I absolutely adore my boots, my only complaint is that I wish Taft would come out with more options of this style, especially a black option in larger sizes.
11/29/2020
Stefan K.
United States
11/18/2020
Michael J.
United States
Viking Boot
I have ha the Viking Boots in Stone for about 2 years and i love them. I received so many compliments that i decided to pick up another pair but this time in Cedar. These shoes garner as many or more compliments and look good with everything, They are very comfortable, extremely stylish and very warm. I could not be more pleased with Taft shoes, particularly my Viking Boots and their customer service.I highly recommend all Taft products. They are my favorite shoes and boots and I love shoes.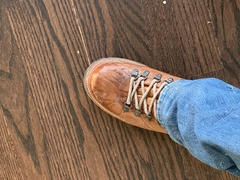 11/09/2020
Conrad R.
United States
Wow.
I have been interested in buying a pair of nice boots for a while now, and I came across Taft online some time ago and really liked what they offered, but I didn't have a real need for another pair of boots at the time, so I held off on making a purchase. Well, recently the time came for another pair and I did a lot of searching to determine who to buy from, and I ultimately ended up choosing Taft. I needed a boot that has a good rubber sold and could hold up to the elements, while still remaining stylish; and well... after coming across the Viking boot in Cedar, I knew I found just what I was looking for. From unboxing to fitting, Taft did everything right. The presentation when you receive and open the box revealing your boots is very well done and top notch. Definitely lets you know you bought a quality product. And the boot... what a good looking piece of footwear. It doesn't just look good either, the craftsmanship and comfort are excellent. As soon as I put the boot on, I was amazed at how comfortable it was out of the box. I am glad I followed their recommendation to size up on the Viking boot, because had I went with my usual size 11, it would have been too tight. I'm looking forward to getting some good use out of these Vikings this coming winter season and the following seasons to come. When I need another pair of boots, Taft will be at the top of my list. Thanks Taft!
11/06/2020
Chester D.
United States
Great Viking Boots
This is my 4th pair of Viking boots and love them all. This is a unique looking boot. As always, great craftmanship and comfortable boot.